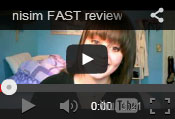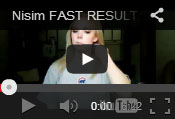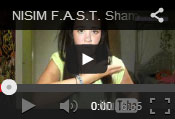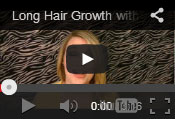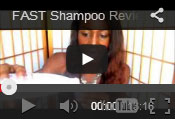 PLEASE NOTE: Each testimonial merely represents the personal experience of the particular consumer and should not be interpreted as an endorsement that you will achieve the same results. Each consumer's experience is different, and different consumers experience different results. All F.A.S.T. Products come with a 100% Money Back Guarantee - click here for details. Click Here For The FAST Product Selector.
F.A.S.T. Shampoo and Conditioner for fast growing hair
F.A.S.T. Shampoo is NOT a hair loss product. If you are looking for a hair loss products click here.

F.A.S.T. Shampoo and Conditioner
Supercharge your hair!
Nisim has created FAST (Fortified Amino Scalp Therapy) ideal for men or women seeking to grow their hair longer. A proprietary blend of natural herbs and essential amino acids are combined to provide the basis for the ultimate in healthy hair growth. F.A.S.T. is a shampoo and conditioner system that works in combination to provide the best results possible.
F.A.S.T. shampoo and conditioner will supercharge your hair and is formulated for all ethnic hair types including African American / Black Hair / Afro-Caribbean and Latino / Hispanic Hair. Whether you have fine, thin, medium, coarse, dry, oily, normal, straight, wavy, kinky, coiled, dense or curly hair, FAST Shampoo will maximize your hair growth. It is also safe enough to use daily for chemically treated hair.
If you are not happy with our product for ANY reason return it for 100% of your money back plus the original shipping charges just for trying it.
Click here for Fast Shampoo Guarantee Details
All F.A.S.T. Shampoo hair growth products ship from Coralville, Iowa, resulting in fast delivery for destinations in New York NY, Chicago Illinois, Philadelphia & Pittsburgh PA, Washington DC, Baltimore Maryland, Alexandria Virginia, Charlotte & Raleigh North Carolina, Boston & Newton MA, Columbus & Cincinnati Ohio, and nearby cities. Customers will also experience relatively fast shipping times when you buy FAST Shampoo online for orders to Atlanta Georgia, Nashville, TN, Minneapolis MN, Detroit Michigan, Indianapolis Indiana, Louisville Kentucky, St. Louis & Kansas City MO, Memphis TN, Milwaukee WI, Des Moines Iowa and New Orleans, LA. for All Nisim Hair Growth Shampoo orders placed to Los Angeles, San Diego, San Francisco & San Jose CA, Houston, Dallas, San Antonio and Austin Texas, Albuquerque New Mexico, Phoenix Arizona, Denver Colorado, Miami & Jacksonville Florida, Seattle Washington, Las Vegas Nevada or Portland OR. Max $5 For Priority Mail
Growing Hair Faster - Long Hair is Beautiful
Long hair is beautiful, but sometimes you have every reason to want to chop it all off. A bad dye job, perhaps; split ends, which seem to happen far often than they ought to; or a bad haircut that just won't grow out right. Regardless of your reason for ridding yourself of your hair, you're inevitably going to want to grow it out again.
After all, who doesn't love long hair? Not only is it longer, more beautiful, and more lustrous, but you can do more with it as far as styling is concerned. These days, long hair is all the rage with both men and women, and it isn't hard to imagine why. When you look in popular media, most men and women have longer hair; gone are the days of crew cuts as the standard for men, and while you see a lot of women sporting pixie cuts now and again, they always end up growing it out.
How to avoid spending time in that awkward in-between stage of hair growth, though? The answer is FAST hair growth products. Nisim's F.A.S.T. Hair growth products for women and for men can be found using our FAST Shampoo line of products to prolong healthy faster growing hair.
Nisim's F.A.S.T. Shampoo is sometimes mistaken for a hair growth shampoo for those who are bald. F.A.S.T. Shampoo won't help you grow new hair. Any positive results you'll experience with Nisim's F.A.S.T. Shampoo products will only be possible if you have existing hair.
How to Make Your Hair Grow Faster and Longer
When you need or want hair growth fast, though, and your hair is healthy and ready to grow, then the fast hair growth secrets contained in Nisim's fast hair growth remedies are for you. Our Hair & Scalp section also include tips for fast hair growth, so as to help your body grow the hair you want faster. Your diet, your lifestyle, and many other decisions in your life day in and day out, are vital for growing hair longer.
When you think, "What do I want out of my fast hair growth product?", you may at first think that speed is all that is important to you, but you should remember that this is something you're putting on your body, a product that will affect the health and luster of your skin and hair.
With Nisim's F.A.S.T. hair products, the natural herbs in the solution will not only help to maximize the potential speed of your hair growth but also improve the health of your hair and scalp. In fact, that is part of what optimizes the speed of your hair growth – increasing your scalp's health is conducive to the fast, healthy growth of your hair.
Healthy Scalp For Faster Hair Growth
With Nisim's hair growth products you'll be able to have whatever hair style you want. You'll be surprised at the ability to prolong your hair growth, moving quickly from your pixie or crew cut, through that awkward stage of half-grown-out, and right into the longer, more popular look that you're going for.
On top of your healthy hair growth, you'll quickly find your hair and scalp is healthier than it has ever been with the products you've been using up until now. Split ends, dry hair, dandruff, and other afflictions of your scalp will quickly be a thing of the past once you've taken the time to treat your body right. With Nisim's FAST shampoo and conditioner, you'll sustain longer, healthier hair sooner rather than later.
FAST is Sold in over 40 Different Countries
At Nisim's we have a large network of available distributors worldwide that carry our hair growth products. Our distributor in China carries our FAST Shampoo and Conditioner under a separate branding as Magic Lab. You can find more about Magic Lab from this link.

FAST Product Selector

Frequently Asked Questions
How to Grow Hair Faster
Long, luscious, fast-growing hair may seem like a dream, but most people can achieve longer, faster growing hair by following a better hair-care regimen. Sure, you might wash and condition your hair regularly, but are you really using the best hair products for your hair?
One of the two main concerns should be your scalp and hair follicle health. All hair growth comes from the base of your hair follicles, so scalp health is an essential part of making sure that those follicles are as productive as possible.
The second part of growing long hair is to pay attention to the hair that has already grown. Although hairs consist entirely of dead keratin, proper hair care can prevent loss of length due to damage. It's true that you can't "kill" hair, since it's not alive after it leaves your scalp, but damage can result in losing hair length to broken or tangled strands.
What this means is that it's difficult to grow hair fast if you're neglecting any number of factors that contribute to insufficient hair growth.
How fast can hair grow?
Generally, hair will grow between a quarter to a half of an inch each month, assuming that your scalp and hair follicles are healthy. If they're not healthy, then you may get considerably less hair growth. Stress, insufficient nutrition, skin and scalp problems may all affect the output of your follicles.
Since it is difficult to improve the length of time that your follicles spend growing hair, one effective measure to grow hair faster is to increase the production of hair follicles. You can stimulate faster growth by making sure that your scalp is clean and healthy. The nutrients and natural herbs in FAST result in increased hair growth speed. Some customers have even seen the speed of their hair growth double! This results in hair growth of up to an inch per month.
The length of hair is also affected by damage to the hair. In order to check whether or not your shed hair is shedding naturally or if it is breaking due to damage, look for a little white bulb on one end of the hair. This bulb is from where the hair was originally attached to your scalp. If it is missing, this means that the hair strand broke in the middle.
What is the hair cycle?
Unfortunately, hair doesn't grow forever. Instead, hair follicles go through a three-step growth cycle. Follicles are tiny tubes in your skin that are just a few cells wide. At the bottom of each follicle is a small collection of stem cells, which produce hair. These cells divide and push the daughter cells up the hair follicle. As daughter cells are pushed further away from the base of the follicle, they make keratin and eventually die, leaving behind a strand of hair. By the time hair has pushed out beyond the surface of your skin, it is dead keratin.
Anagen: This part of the hair cycle is the growth period and lasts anywhere from two to seven years for a healthy follicle. The more years that individual follicles are able to spend growing, the longer your hair can grow to be.
Catagen: This is the second part of the hair cycle, and usually lasts only a few days. During this stage, the hair cells stop dividing in your hair follicle and the end of the hair forms a hair "club". If you check a hair that you have shed naturally, you can see the hair club at the end, which appears as a tiny white bulb.
Telogen: This is the resting phase of the hair cycle and typically lasts a few days, though it may take several weeks for your follicle to start growing again. At this point, the hair is not growing any longer, and depending on various factors (scalp health, amount of sebum in and around the follicle), the hair might be shed. This shedding is called exogen.
At the end of telogen, the hair cells at the bottom of the hair follicle become reactivated and begin another 2- to 7-year cycle. If the previous hair was not shed during telogen, the new hair will grow up alongside that old hair and may push it out. You can sometimes see this in process. If you have a hair follicle that contains both an old, long hair and a new, short hair, you are looking at a follicle that has started the anagen stage of a new cycle before pushing out the old hair.
Terminal length and overall hair length limits
Terminal length is real, but luckily for most people who are trying to grow long hair fast, your terminal length is probably longer than you think it is. The natural limits to hair length are typically exacerbated by poor hair care and less than ideal diet and nutrition. Hair that barely reaches your shoulders is unlikely to be a real hair limit, since many people can grow up to a half an inch per month.
Hair growth is naturally limited by the hair cycle, and the most important limits are the speed at which follicles can grow hair, and the length of time they have to grow in. You can improve both of these limits by making sure that your scalp is healthy. FAST shampoo and conditioner safely and naturally cleanses your scalp to remove dead skin and extra sebum or skin oils. This allows the follicles to produce for longer periods and results in faster hair growth.
Hair follicles have a set period of time during which they grow. To avoid shortening the length of the anagen phase of your hair cycle, eat well, take supplements if necessary, and avoid stress. Getting the right nutrients will help you grow hair faster by preventing hair damage.
Stress and hair growth
Have you ever heard someone say that they were so stressed that their hair fell out? Well, that's not necessarily an exaggeration. Stress can result in hair taking a shortcut to the end of the hair cycle, or shortening the anagen phase. Once your follicles start to move out of anagen, the root will retract and your hair will be replaced by a new strand.
Luckily, if stress has been artificially shortening your hair cycle, you can grow your hair to the length you want after cutting stress out of your life. If this is the case, you'll also see additional benefits in your life, because too much stress has a negative impact on many parts of your health and life overall.
Scalp Health
Dandruff, skin oils and poor shampoo can all affect your scalp health, in addition to other minor skin problems. Dandruff, oils, and shampoo build-up can clog hair follicles and pores, which results in weaker hair and can even result in acne or infections. Itching from poor scalp health also makes it difficult to grow hair fast because it encourages scratching, which can pull new hairs out by the roots.
Blocked, infected follicles are not able to grow long, healthy hair. Additionally, it's not just emotional stress that can affect hair growth. The stress placed on your scalp by poor skin health can result in the follicles exiting the growth stage of the hair cycle early.
The best way to deal with a scalp that is overly dry, too oily, or otherwise non-ideal, is to use a better shampoo that does not leave a damaging residue behind. FAST shampoo and conditioner is designed to nourish your scalp without making it too oily.
Shedding vs Hair Loss
The last thing anyone wants to see when trying to grow longer hair is lost strands. However, before you panic about the hair left behind on your pillow, keep in mind that shedding individual hairs is a normal part of the hair cycle.
Normal hair shedding is approximately 100 strands of hair per day. Depending on your hair care regimen, this may vary if some shed hair is still remaining in place until you wash your hair again. This is a natural part of the hair cycle, and typically just means that some of your follicles have finished one cycle and are beginning a new one.
It is also possible to see a slight increase in hair shedding after beginning a new shampoo or conditioner routine. In general, this is nothing to be concerned with. Many of the hairs that you shed are not newly lost strands. Instead, these strands were ready to come out, but were held in place by sebum or other skin oils and residues. Using a shampoo like FAST, you should only see increased shedding for the first few days.
Regrowth of lost hair
Unfortunately, not all hair shedding is due to the hair cycle. If you are experiencing increased, or otherwise unusual amounts of hair loss for long periods of time, there may be more behind it. Most hair loss occurs as people age. This is partly due to the effect of a hormone called DHT. DHT is the primary cause of hair loss for men, and is also thought to affect hair loss in aging women as well.
FAST products are for promoting the rapid growth of existing hair and are not effective for growing back lost hair. For products that help reverse hair loss and thinning, check out our NewHair BioFactors line of products instead.
Other tips for fast hair growth:
Although the hair on your head consists of the dead keratin from old cells, it is still extremely important to treat your hair gently. Hair can become damaged from a number of different treatments, including hair dye, bleaching, high tension hair styles, rough brushing, and insufficient hair care.
Trim hair about every three months. Frequent, very slight, hair trimming can reduce the amount of length that you have to lose to scissors. No matter how well you treat your hair, the ends of hair strands will develop split ends. This is a natural occurrence at the end of hair.
Copyright © Nisim International

All Rights Reserved.