Make Hair Grow Faster
How do you make your hair grow faster?
This is one of the most popular questions from our clients! Everyone wants to know how they can get their hair to be as long as possible, and in the shortest amount of time. All you need to do is read this article for a few tips on getting your hair longer and it will be more luscious and more beautiful in no time!
Hair Extensions
Expensive
Damaging to hair
Only temporary
Hard to manage
Hair extensions are a quick solution to long hair but they are not for everyone.
FAST hair shampoo and conditioner
is a great alternative! Growing your real hair longer faster always takes time and patience but FAST shampoo and conditioner is the quickest and most natural way to make your hair grow faster. FAST shampoo and conditioner helps your hair grow up to 99% faster than it does naturally - this has been clinically proven. Some customers claim an even higher rate of hair growth!
FAST Shampoo

Hair stays healthy
Fastest way to grow your hair naturally (99% faster)
Affordable Price ($34.95 for 10 oz set of Shampoo and Conditioner)
Clinically Proven
Money Back Guarantee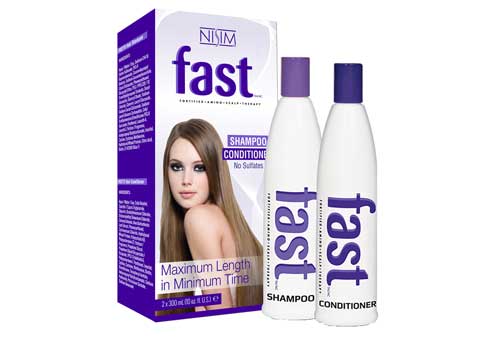 FAST shampoo and conditioner gives your hair and scalp the vitamins and nutrients it needs to grow longer faster. FAST works better the more you use it because each time you wash with it you are feeding your hair with essential vitamins and amino acids. For best results use daily, lather rinse, repeat and leave conditioner in for about 2 minutes then rinse.
Taking a daily multivitamin and drinking lots of water will help ensure that your hair, nails and body are getting all the necessary vitamins they need to be strong, healthy, nourished and most importantly growing faster! Look for a women's daily multivitamin that has biotin in it, the back of the package should list all the vitamins that are in the multivitamin. When your hair is healthy and strong it does not break off at the end. Often when you feel like your hair is not growing past a certain length this is because it is breaking off at the ends before it can get longer.
Lastly, take care of your hair! Try to avoid excess use of heated styling products and if you do use heat on your hair remember to use a heat protectant spray to close and shield the cuticle from heat damage. The healthier your hair, the less breaking it will do.
Avoid brushing your hair too aggressively. When hair is longer it is more prone to tangles so you might be tempted to brush your hair but using a wide tooth comb or a tangle teezer will be more gentle on your strands and prevent potential snagging or breakage. It is especially important to not brush your hair when it is wet, that is when it is most fragile. We hope that all of these tips will help you to get the long hair you are looking for and make hair grow faster.
Copyright © Nisim International

All Rights Reserved.